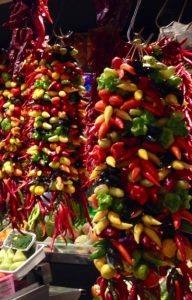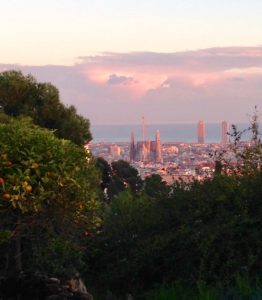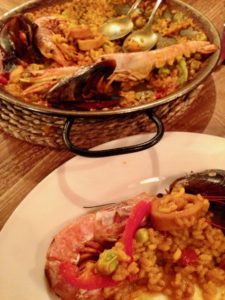 The city
Barcelona (Barca) is a Catalan city in the Mediterranean Sea with beautiful architecture, incredible art and delicious food. First thing you'll probably notice: one of the many buildings / artworks – some of them very playful and even tacky (but in a good way!), the many colors of this city and especially the very blue sky, which – in my opinion – must have inspired Gaudís style of art…
Barcelona is the capital city of Catalonia and second biggest city of Spain (Madrid is the biggest one). Two stories state Barcelona already exists since 218 B.C. or 230 B.C. Another story (more likely a myth) claims the city was already founded in 1153 B.C.!
The perfect time to travel to Barcelona is in spring or autumn (the temperature will then be around 20°degrees) and never during summertime – too many tourists, too crowded.
How to get there
There are cheap airlines that fly into Barcelona-GRO (Girona), a bit outside of Barcelona City, but there's a shuttle going back and forth which takes 1.5 hours.
From Karlsuhe/Baden-Baden Airport in Germany we only paid 50€ for a return flight with Ryanair.
Where to stay
We spent four days in a luxury apartment: "Suites Gaudi" in the middle of Barcelona and just opposite the Sagrada Familia!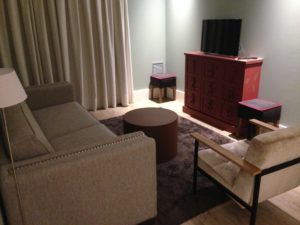 Another advantage: this apartment is pretty close to the bus station where the airport shuttle arrives and leaves.
We paid only 70€/night and we could've stayed with four people since there are two bedrooms and two bathrooms.
We absolutely recommend this place! The owner asked for our time of arrival and was waiting for us in front of the building.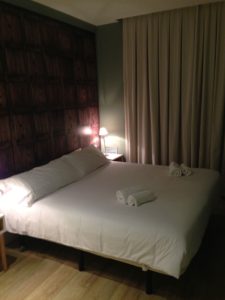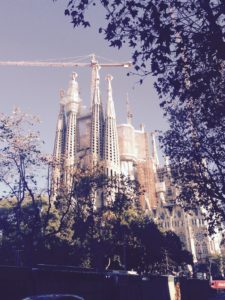 The neighborhood is called Eixample and is definitely a nice one.
Two more suggestions: the Generator-Hostel and the Rodamón Barcelona Centre–Hostel – both located very central. When we were visiting Barcelona both hostels were still really cheap (as far as I remember only 30€), nowadays a bit more expensive but you can still get a good price for some nights if you are a bit flexible regarding dates…
Typical things to do in Barcelona / Day 1:
Stroll down the Ramblas and always keep your valuables close, turn around the corner to visit the biggest and most beautiful market hall in Barcelona: the Mercat de la Boqueria. The many different smells, the loud merchants, the beautiful colors of various chili and those typical huge bacons that hang from the ceiling.
Now you can go to the harbor, walk the beach a little while and then you have to stop at the Champagneria "La Xampaneria" (Carrer de la Reina Cristina, 7). Really, you have to!
You only get a bottle of Cava (a typical Catalan sparkling wine, it is basically a Spanish champagne) if you also order two little plates of Tapas, but we can live with that…
You only spend a few Euro (3-5€) for one bottle and a cup is only between 0,85 – 1,25€.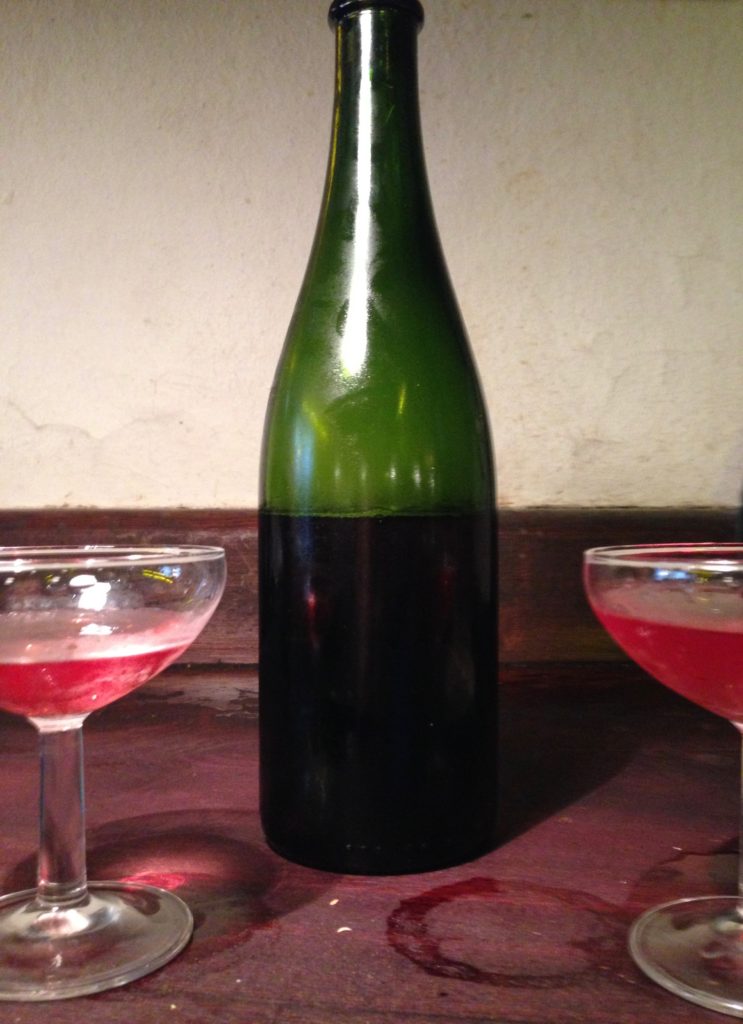 Oh and do not wear anything white or otherwise you will probably leave the bar sprinkled in red. The locals come here in the early afternoon (after work or even during their lunch break), it is loud, funny and the bartenders only speak Spanish.
Do not get discouraged, this place looks really unimpressive from the outside; it is packed and loud, there's no seating and you have to push a bit to get to the bar and order something.
We made new friends with another couple, totally forgot about time and stumbled out of the bar around 3 p.m. totally confused because it was still light outside – without shoes because our feet hurt from running around and standing around all day.
We went to the closeby Hotel Duquesa de Cardona Barcelona (Passeig de Colom, 12) afterwards. This rooftop bar gives you a fantastic overview of the harbor and the city. Deep blue sea, bright sunshine, yachts… but especially one thing: an hour of calm and serenity after all this turbulence of the city and the Champagneria.
Day 2:
Today we are visiting some of the typical sights of Barcelona I'm going to mention further down. Parc Güell for example. You should plan 1-2 hours.We stayed much longer though (including a parc bench nap).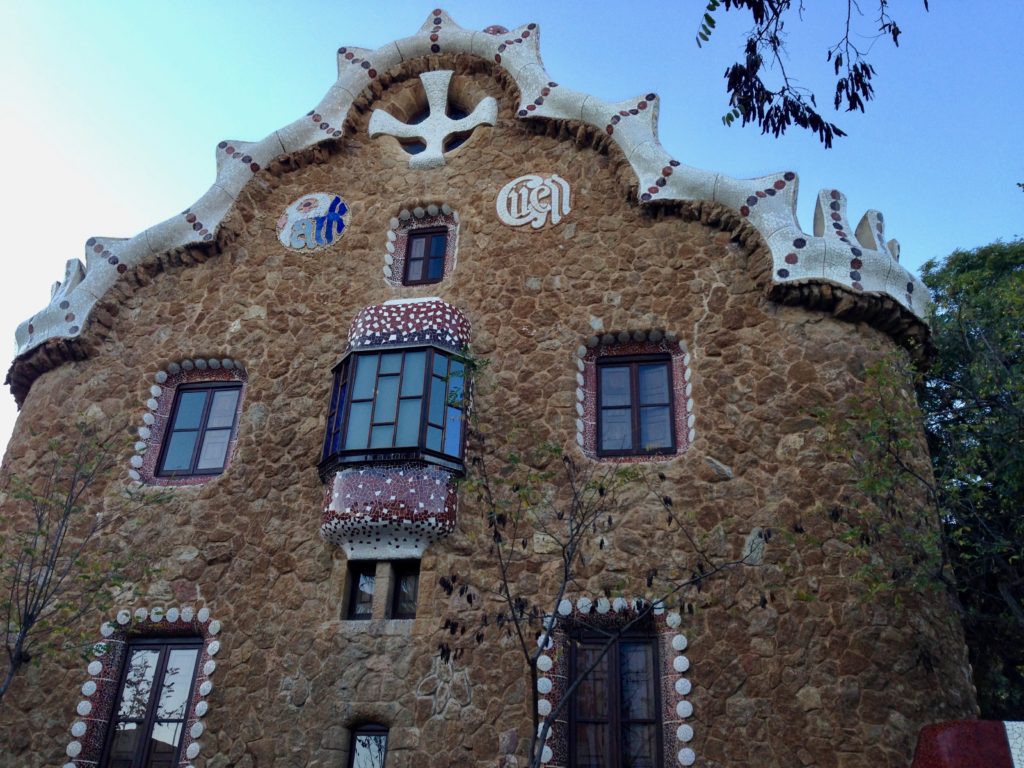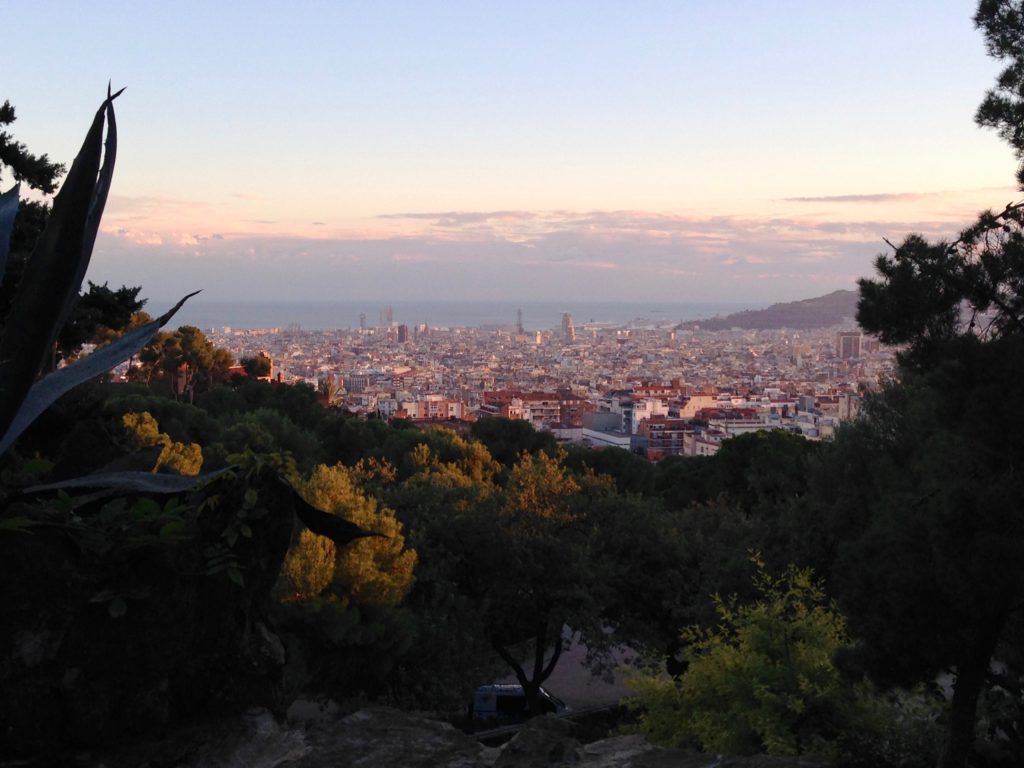 Our evening we spent with "Beethovens 9th Symphony" – played by a famous orchestra at the Palau de la Música Catalana a beautiful concert hall built between 1905-1908.
Before the concert we had drinks (our so-called "theatre aperitif") at the Xalot (Carrer de la Palla, 13), a loft-like urban restaurant with hugh shelves from floor to ceiling filled with wine bottles. I think I lost my shoes there (in a sober state…honest to God…).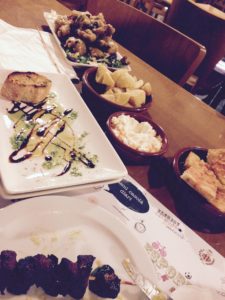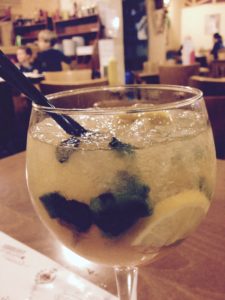 Next door (Carrer de la Palla, 13) you find the Caelum that looks like it could have originated in a Harry Potter movie; a small and cute house on the corner that doesn't feel that small once you are inside, but still, if you want to eat here you should make reservations.
After the concert we went to Tosca Tapes i Vi (Carrer de Sant Pere Més Alt, 8) to let the concert sink in. Compared to many others this is a very quiet bar with friendly waiters and a cozy atmosphere.
Day 3
The third day we strolled through the city, went down to the harbor again and inside the beautiful Parc de la Ciutadella.
We also visited the Catedral de Barcelona. With a short stop in the courtyard at the splashing fountain to contemplate the beauty and peace you are bound to find in this gothic church.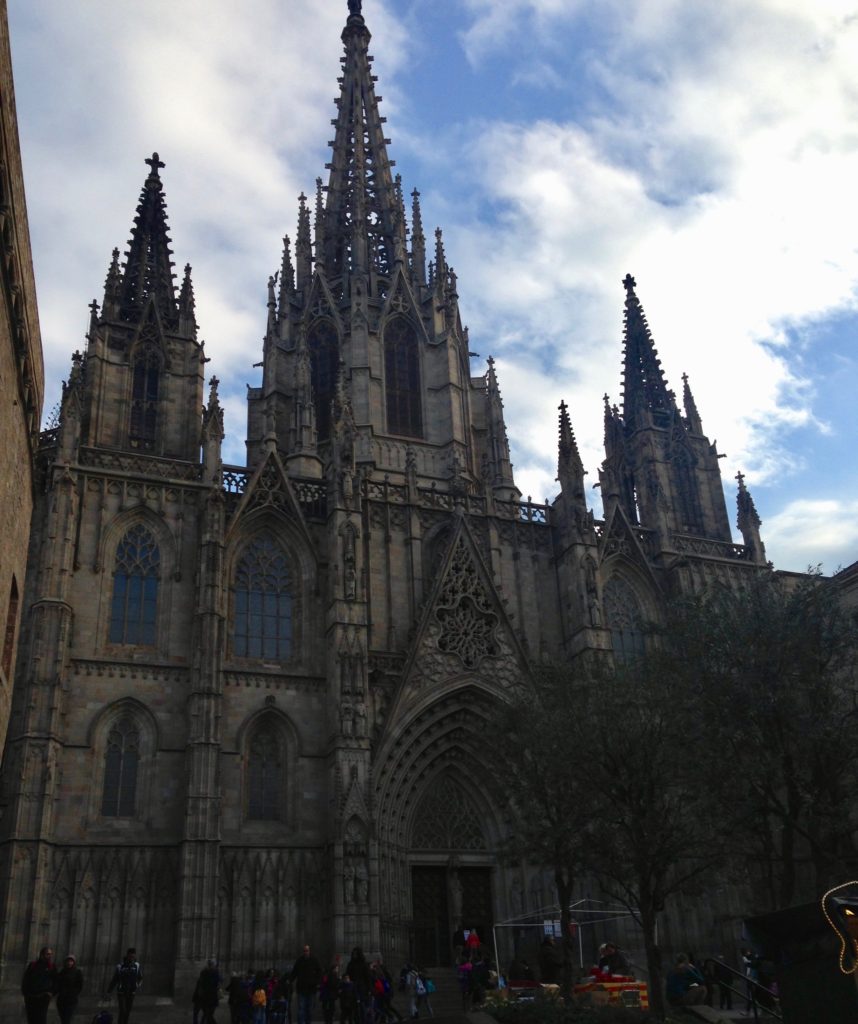 We then walked around the quarter Barri Gòtic.
The narrow and winding streets and historical buildings around the cathedral but especially the many little stores are worth a second look.
Special tip: the last two tourist attractions I am writing about (when you scroll down you see it), Casa Milà and Casa Batlló, you should visit in the evening just before dinner, because when you are in Barcelona you should definitely go eat at this restaurant which is close to these two houses (only five minutes away). Really. You should go there. I mean it.
It is called Restaurante Loidi and it's a spanish star-restaurant where we had a wonderful 6-course menu in a nice, modern atmosphere. Just take a look at the little collage I did of the food we had that night:
Martín Berasategui (a 3-star-chef) is in charge of this restaurant and offers very affordable menues – a 4-course menu for only 39€/person and a 6-course meal for 62€/person including wine!
And now that we are dressed up already we decide to go to another rooftop bar at the Novotel Barcelona City. You can have a sangria at the pool with a fantastic view over the glittering lights of the city. The tower Torre Agbar (142 m) seems to stand right in front of us and almost dazzles us with its 4.500 LED-projectors in pink and blue. At daytime this tower looks like a reptile and from further away like a liquid mass. This impression is created by 40 different paint finishes on the buildings aluminum skin.
Day 4
How about a visit to the Picasso museum?
Or if the weather is nice you could hang out at the terrace of this hotel: http://www.ayrehoteles.com/de/hotel-rosellon/ (this one is close to our apartment). You can relax in your deck chair, have a drink and look at the most famous constuction site around here: the Sagrada Familia. The hotel terrace opens at 11 a.m.
A visit to the Sagrada Familia is actually a MUST when you are in Barcelona. You have to book your tickets in advance: http://www.sagradafamilia.org/en/tickets/
Even if the lines in front of the Basilica are long and the ticket prices (15 €) are a bit higher than for other churches and even if you're usually not interested in architecture, churches and tours – you should still pay a visit.
How much would I love it to go through the Sagrada all alone just once – at my leisure, without people taking pictures and without whispering tourists.
Especially when the sun is shining through the stained glass windows and the inside is illuminated in yellow and blue.
On our last evening we enjoy a romantic dinner at the restaurant La Gambeta (Carrer de la Fusina 3, close to the harbor and the Parc de la Ciutadella). It is a cellar vault with beautiful stone walls, the sea bass melts in your mouth and the beef filet is very tender. The prices are ok as well.
http://www.lagambeta.cat/de/inicio.html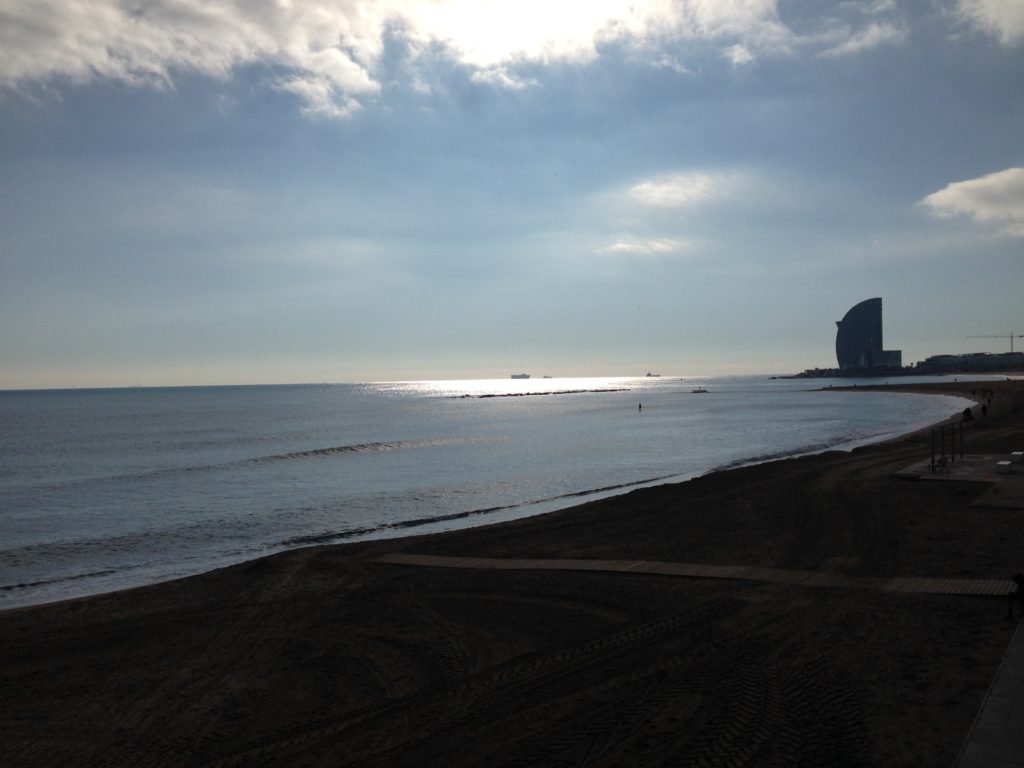 If you want to go dancing at night you can do so at the terrace of the Hotel Pulitzer. On Wednesday nights (8-9 p.m.) you can see bands or singers perform here, Thursdays and Fridays DJs will be spinning records starting at 7pm. It's open until midnight.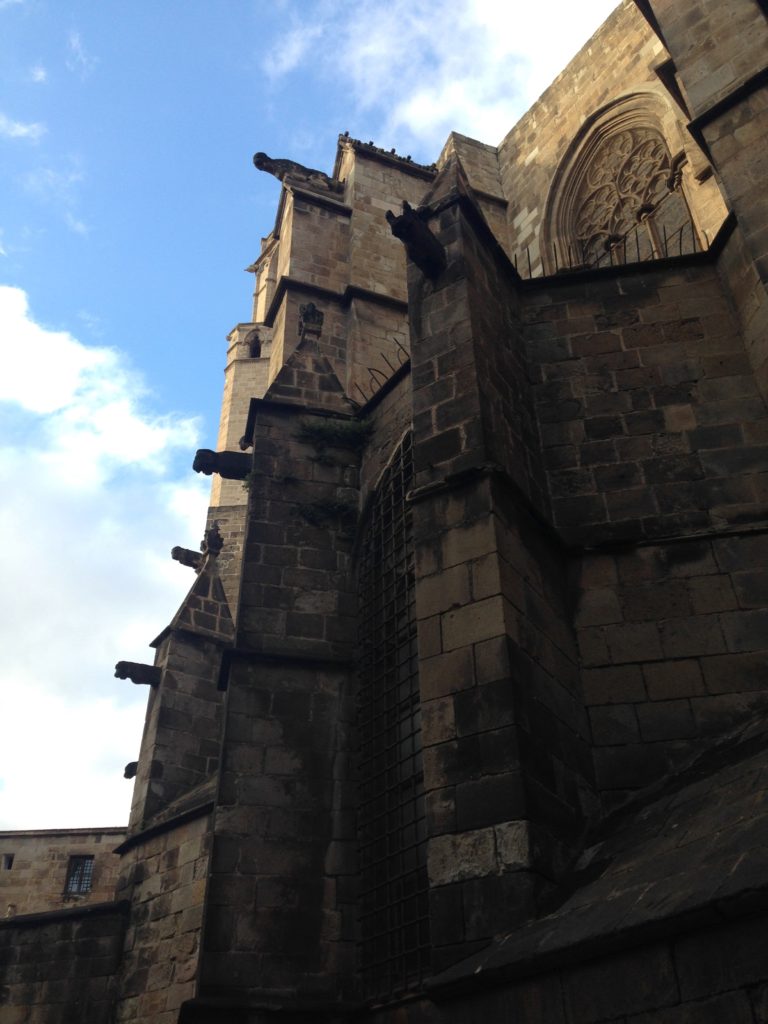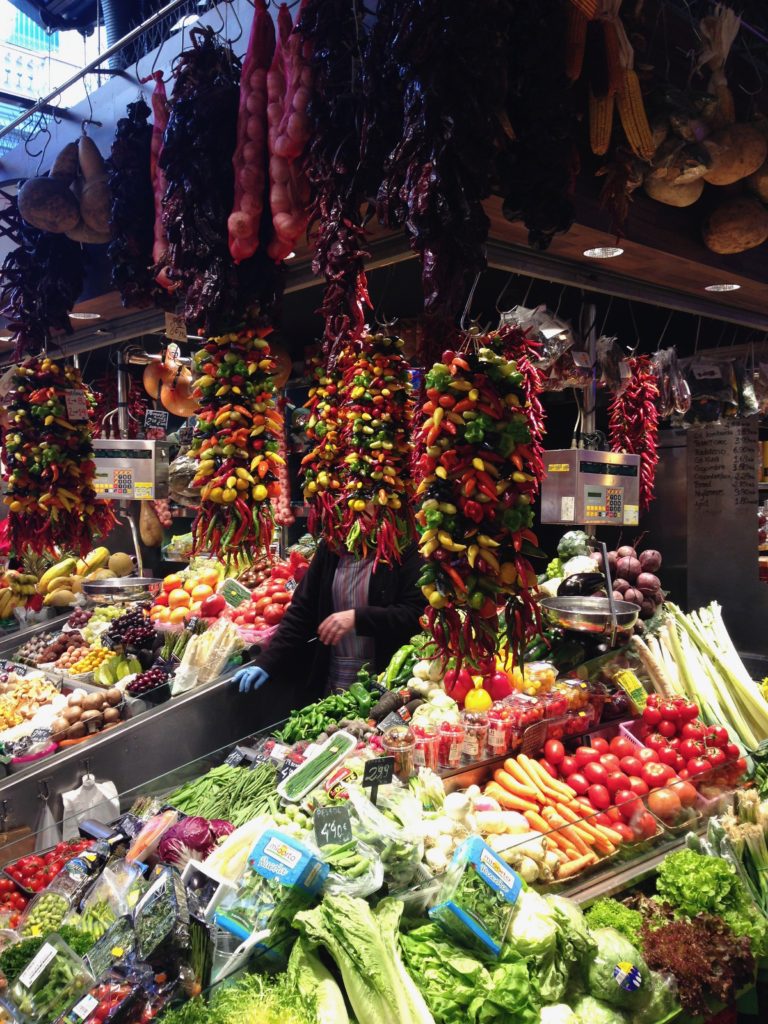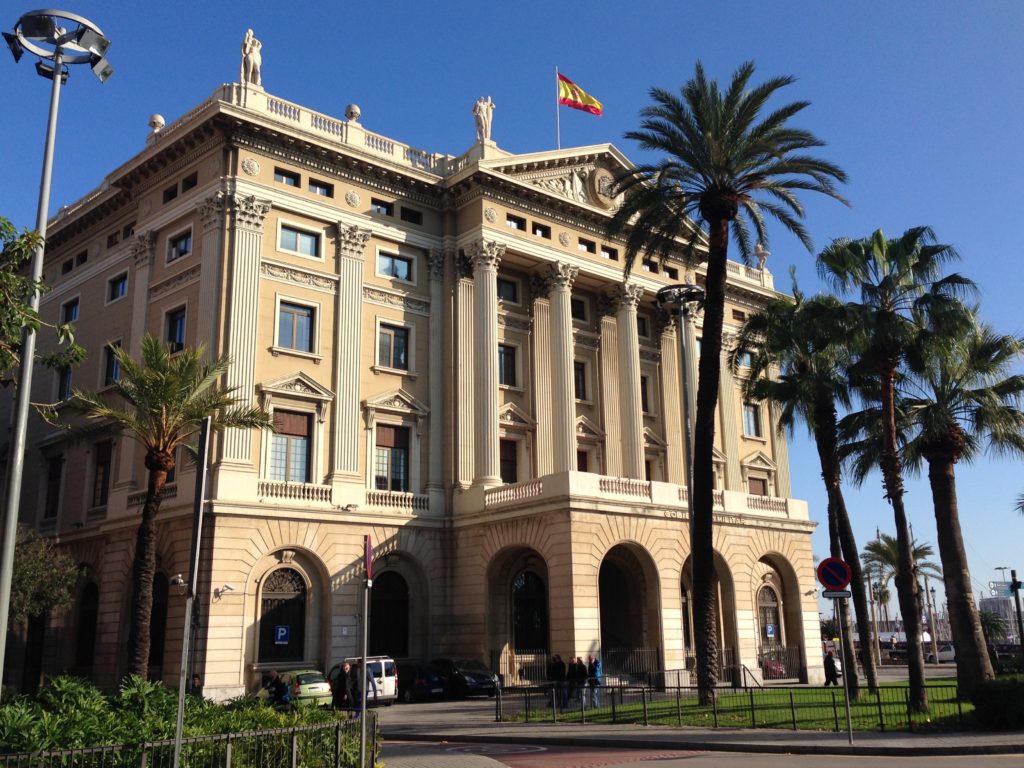 ---
And now here are a few more typical sightseeing tips for your trip to Barcelona:
architect: Antoni Gaudí (1852-1926)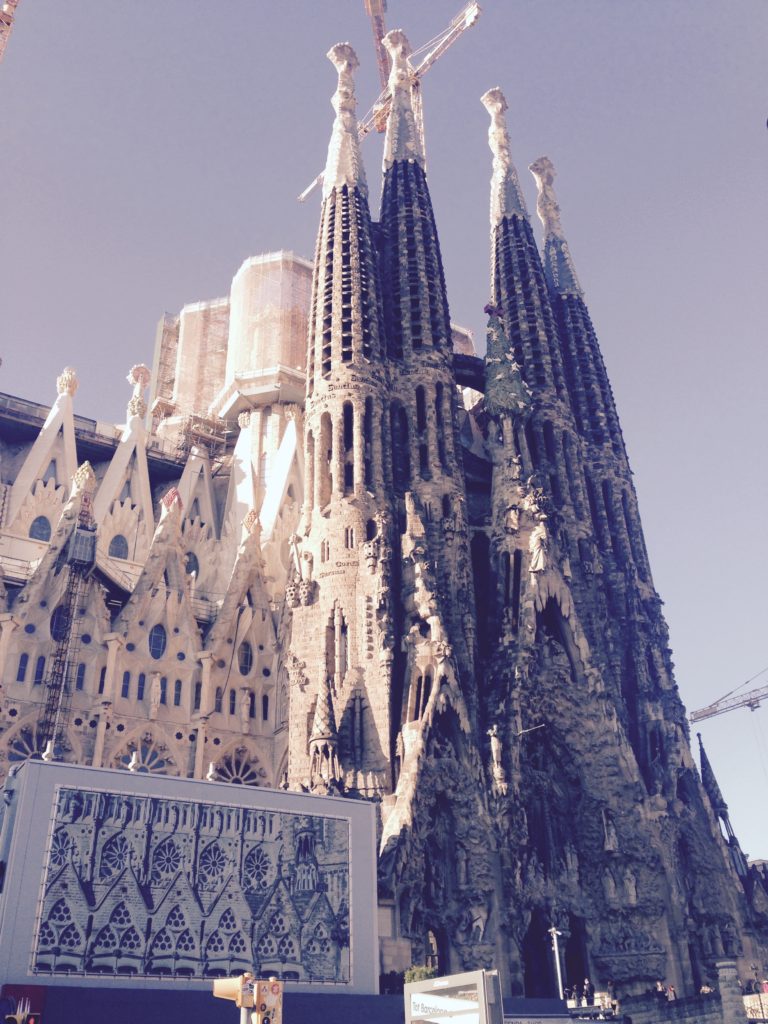 The roman-catholic basilica is still under construction – since 1882 (more than 130 years) – but nevertheless it has been declared UNESCO world heritage.
When Gaudí died in 1926 (at the age of 73) less than one quarter of the basilica was completed.
The church was designed in Gothic style but also hinting many modern techniques – the typical style of Gaudí. The look is surreal, playful on one hand, mighty on the other. I walked around this masterpiece so many times but still I'm astonished every single time.
The only disadvantage: so far you could not ever take a picture of the building without scaffolding and cranes – but in ten years it should eventually become possible: on Gaudí's 100th date of death in 2026 the constructions should finally be completed.
Parc Güell was planned by Gaudí 1900-1904 – and should have been a garden village with more than 60 Villas. But due to financial problems only 3 of those houses were built: the house of the Güell-family (today it is a school), Gaudí's own house (this is today's Casa-Museu Gaudí which contains some of his drawings and furniture he designed) and the third house belongs to an architect and is still private property.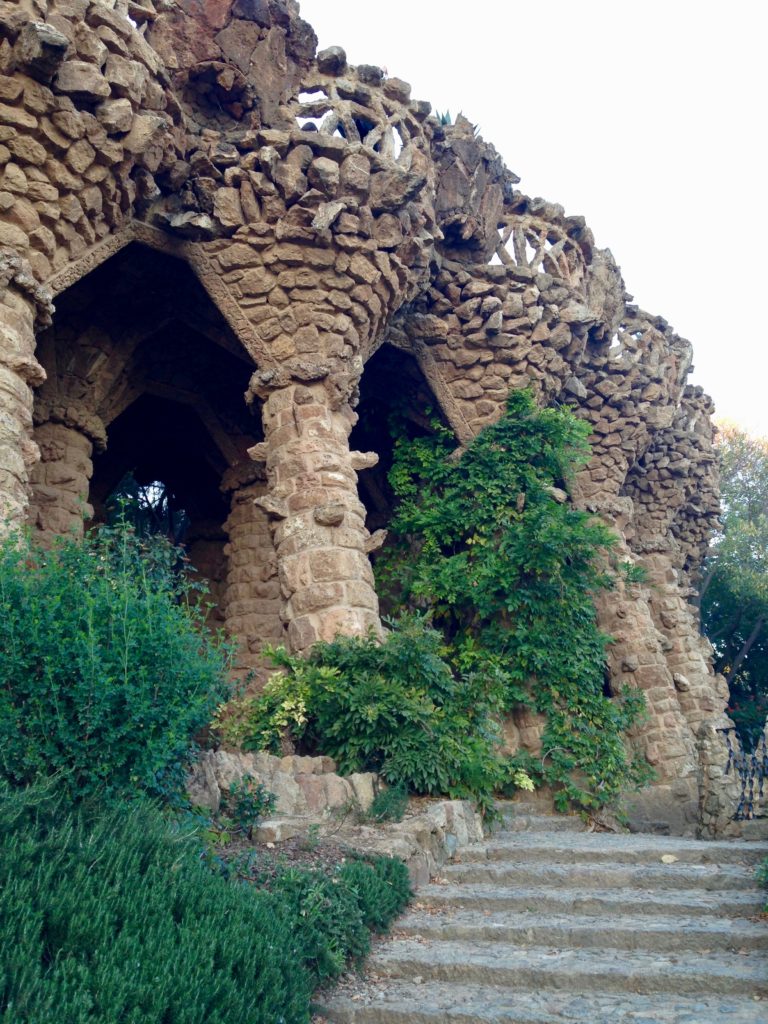 A lot of this parc is free to enter you only have to pay for the "monumental zone" (7€).
Next to wonderful terraces and beautiful nature you also have a fantastic view all over the city and the ocean – it's especially nice to experience a sunset on this hill.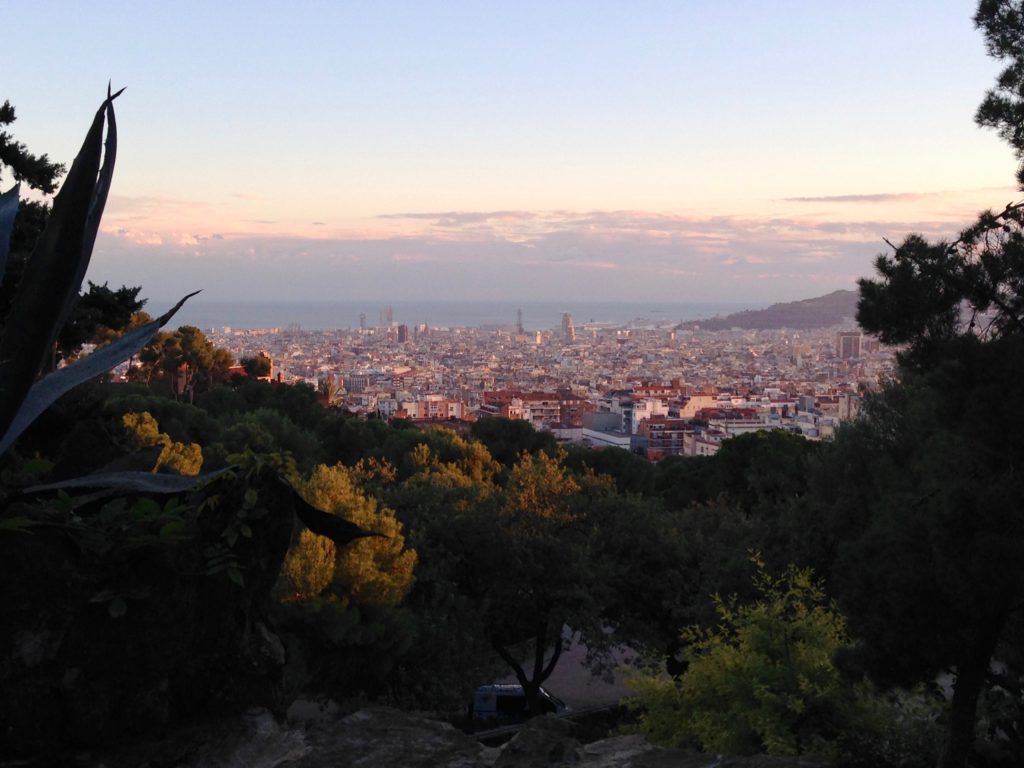 Casa Milà, Casa Batlló und Palau Güell
Palau Güell, a house in the city centre, was built between 1886-1890. It was one of Gaudí's very first buildings. He mixed a Venetian appearing front with those playful and colorful little towers and figures that are so typical for his art. Inside the Palau you can inspect a lot of furniture and pieces of art designed by Gaudí.
Palau Güell as well as Casa Milà and Casa Batlló have been declared UNESCO world heritage.
Not far from here (close to the metro stations "Passeig de Grácia" und "Diagonal") are the two other famous houses built by Gaudí. They are very close to each other on the street Passeig de Grácia.
Casa Milà (a.k.a. "La Pedrera" – which means "stone quarry" because people were not quite enthusiastic about it at first) was built 1906-1912 and it was Gaudí's last building for civilian population – after this one he fully concentrated on the Sagrada Familia. Contractor for the Casa Milà was business man Pere Milà and this building wasn't only famous for his obvious characteristics – also the underground garage as well as the "self-supporting" stone facade that didn't need load-bearing walls inside the house anymore (the apartment owner could decide if and where to build walls) were innovations at this time!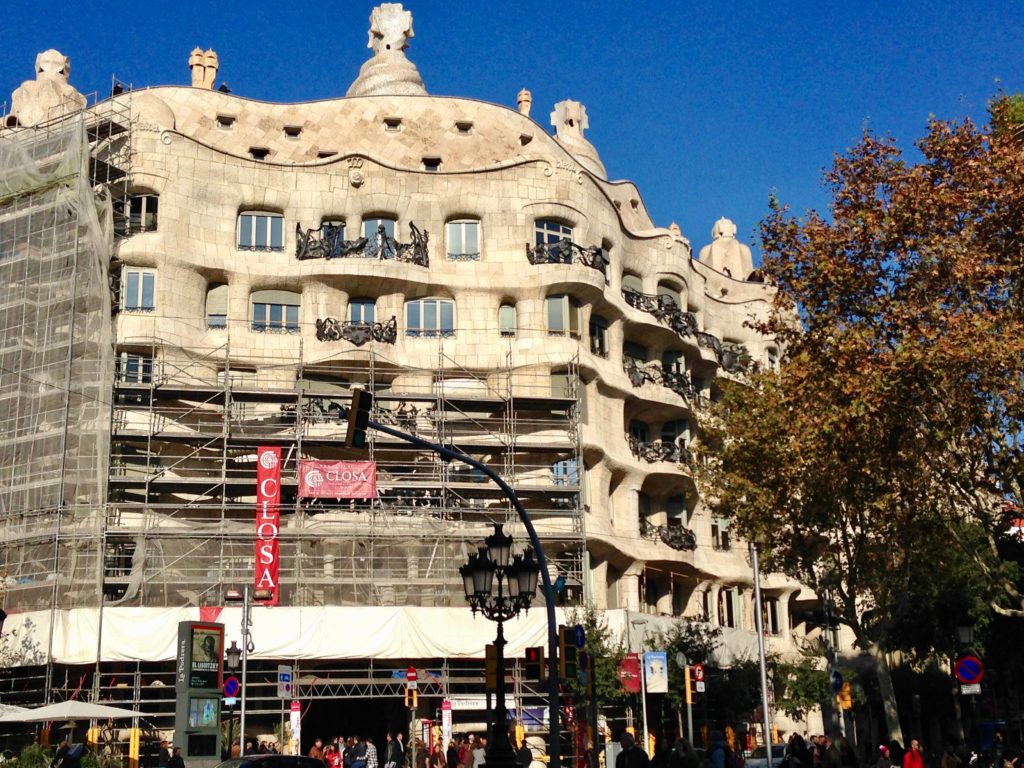 The inside of this house, especially the atriums and the attic – also provided with art pieces of Antoni Gaudí – is really worth a visit.
Another highlight is Casa Batlló, just a view steps further down the street. Again, this house Haus is named after its contractor. It was built in 1904-1906 or actually it was rebuilt, since the building already existed but the owner wanted it to be re-designed by Gaudí. It seems as if this building originates straight from a fairy tale.
The balconies are supposed to look like huge skulls, the roof represents the scales and the first floor the mouth of the dragon that was fought against by St. George (here: Sant Jordi, patron saint of Catalonia). It is private property but you can visit it as well.
And Last but not Least: A bit of Gaudí-Curriculum Vitae, since this is "his city" with numerous buildings he designed and a bit of background information could be interesting for you and your fellow travelers:
Antoni Gaudí was born in 1852 in Spain (not far away from Barcelona), he was an architect and artist of the modernisme. As a child he was disease-ridden with rheumatism and instead of playing with other children he observed nature. His style of art might have been inspired this way.
When handing him his degree the direcor of Barcelona Architectur School said: "We have given this academic title either to a fool or a genius. Time will show."
His first big creation failed. Only when he met Eusebi Güell in 1878, who financially supported him, Gaudí could build what he had in mind like Parc Güell, Palau Güell etc.
Gaudí never got married, instead he commited fully to asceticism, lived as a celibat and was kind of shabby looking.
He designed many houses but his life's work clearly was the Sagrada Familia.
He died in June 1926 on his way to the construction site of the Sagrada when he was run over by a tram. The whole city was in deep mourning and the pope agreed to entomb Gaudí in the Sagrada Familia.
Since 2000 a proceeding of the Catholic Church is under way for Gaudís beatification – to honour his extremly exemplary life.
This is a listing of his art works (the highlighted ones are those who are to find in Barcelona):
–Sagrada Familia (1882-)
–Casa Vicenz (1883-1888)
-Villa Quijano (1883-1885)
–Güell Pavillons (1884-1887)
–Palau Güell (1886-1890)
-Bishop's palace in Astorga (1889-1893)
-Casa de los Botines in León (1891-1893)
–Casa Calvet (1898-1900)
–Park Güell (1900-1914)
–Casa Batlló (1904-1906)
–Casa Milà (1906-1910)
-Colònia Güell Krypta in Santa Coloma de Cervelló (1908-1916)
Also:
-Cooperation at the Parc de la Ciutadella (1871-1889)
–Street lights at Placa Reial (1888)
–College of the Teresians (1888-1889)
-Celler Güell, Vineyard (1895-1897)
–Bellesguard (country estate) (1900-1909)
–Finca Miralles (1901-1902)
-Interior renovation of the Cathedral La Seu, Palma de Mallorca (1903-1914)
-La pobla de Lillet, parkway (1905)
Please follow and like us: