Can a person actually look even more handsome in real life than in a movie or in a commercial? Uhm…YES!
Josh Hartnett is absolutely adorable – but what can I say you didn't already know?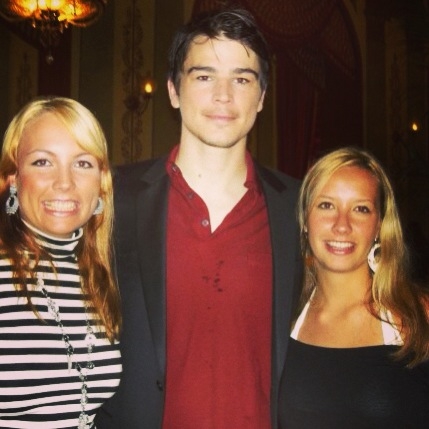 We met him at our second place of residence: in Normandy, France. My mom, my sister and I had our first Aperitif this morning, he was drinking his espresso. And then something weird happend: he introduced himself to us: "Hi, I'm Josh."
In our heads my sister and I were like "Oh my goodness, we freaking know who you are!!!" (we usually know what the other one thinks – like twins, I swear!) but of course we played it cool. "Hi, I'm Bee." – "Hi, Lin…"
We all shook hands and talked a bit and before he left for an interview he spilled a few drops of his espresso on his shirt. He probably thought it was just going to be an interview, because he didn't change into a new shirt. His photo was in the newspaper the next day. 😀
So this was our little meeting with Josh, although I'd rather call it a date. A date that went very well, even though it only lasted a few minutes and my mom and sister were sitting next to us… but hey, we can't have it all, right? At least HE was the one spilling his coffee, not me 😀
But enough with the drooling…
This was only an introduction, now comes the actual August Favorite: this month I nominate Lucky Number Slevin (released in 2006) starring – SURPRISE – Josh Hartnett! But also Lucy Liu, Bruce Willis, Morgan Freeman and Sir Ben Kingsley… do I need to say more?
I've seen this movie many times and still, after all these years, I am laughing so hard at some scenes and jokes, some of the lines are so witty, but still; I would not quite call it a comedy. This is the first time I am not reveiling the story of a movie at all. Not even a bit. You really have to watch it yourself! It'll be so worth your time!
Enjoy.
Please follow and like us: