Could there be anything better for a city brat than being surrounded by (almost) nothing but nature? Absolutely not.
Especially when one of the goats of the estate in Brixen (Bressanone) – where we usually stay at for 2-3 days when driving home from Italy to Germany – has just welcomed a baby goat.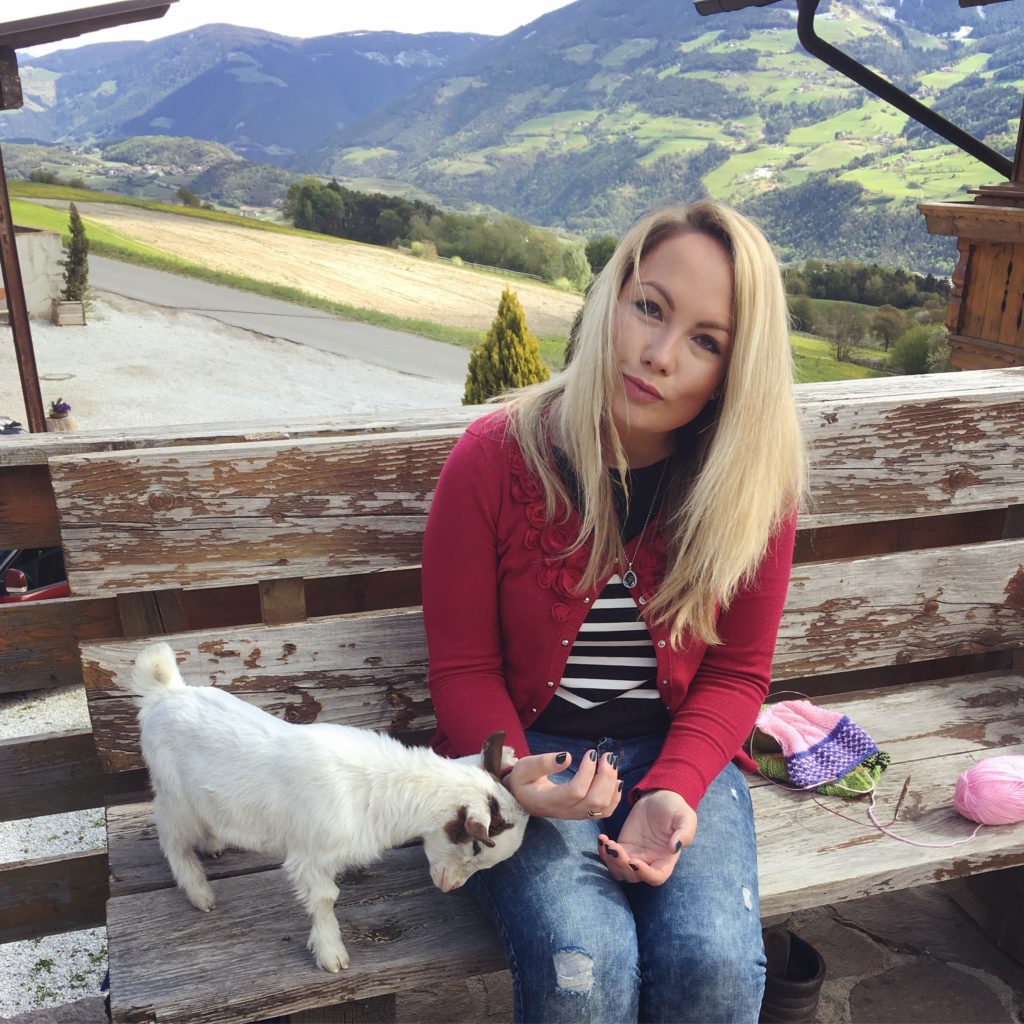 To me as a huge goat-fan this is heaven! Even last nights newborn donkey isn't really interesting to me, although I have to admit he looks very cute trying to jump and walk looking so clumsy. People who know me know how I drop everything the moment I see a goat and I am not responsive anymore… It can be a bit upsetting for someone wanting to spend a romantic weekend with you and all you can talk about is a baby goat. "Can I take it inside with us?" – "Can I take it home with us?" – "Can you guys just do lunch without me? I want to stay with the goats." – "Can't she stay with us for just one night?"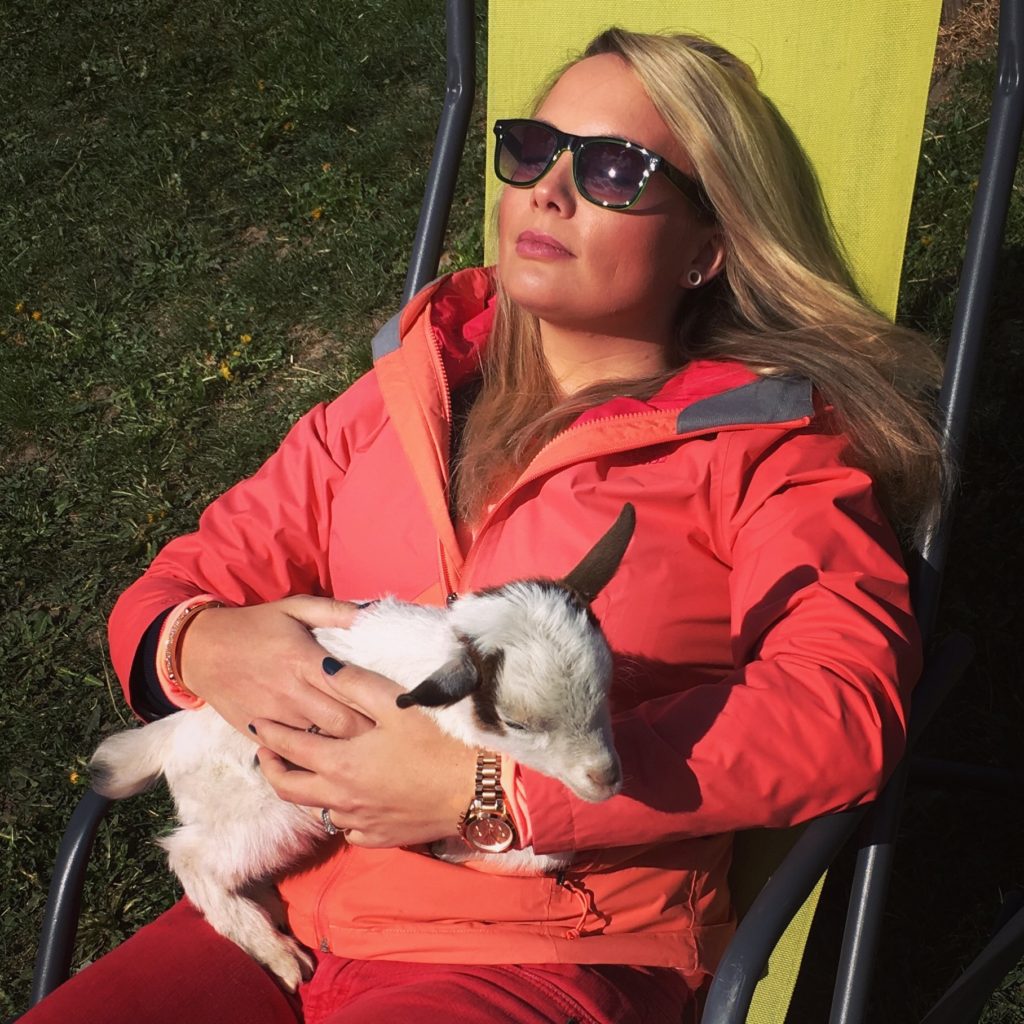 ---
Anyways… if you want to spend the night(s) at a farmhouse with a wonderful view of the alps, cosy bedrooms, really good food, a few animals (donkeys, goats, horse, bunnys), a pool and a garden and with the friendliest owners I've ever met, then you are exactly right at the Saderhof!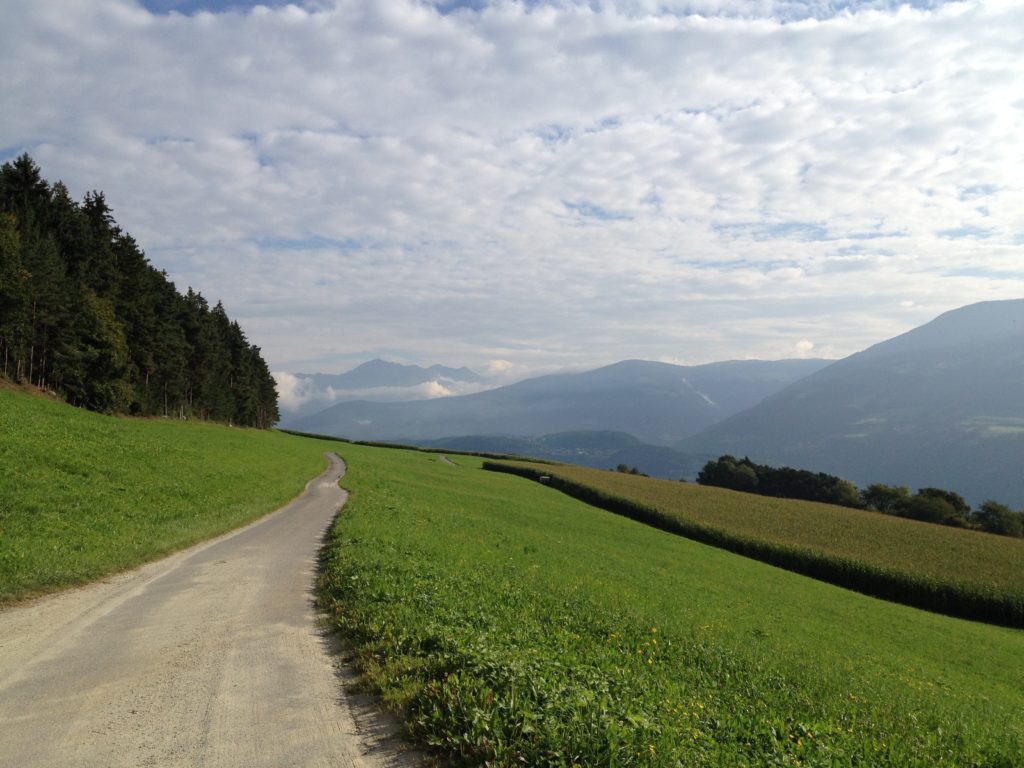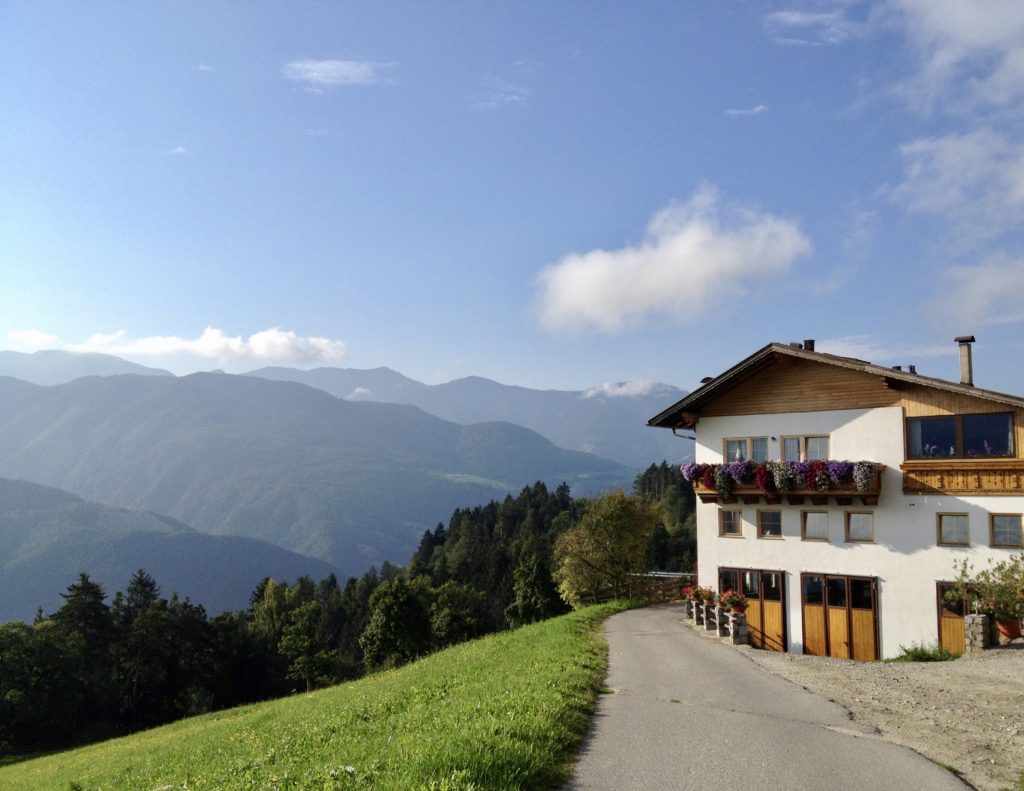 It's only 22€ p.p. and night incl. breakfast! You can also have lunch and dinner there if you don't want to drive down to the valley. Their kitchen can definitely keep up with restaurants in Brixen.
---
So what can you do in South-Tyrol or in Brixen, to be specific?

Eat, hike, eat, enjoy nature and… eat.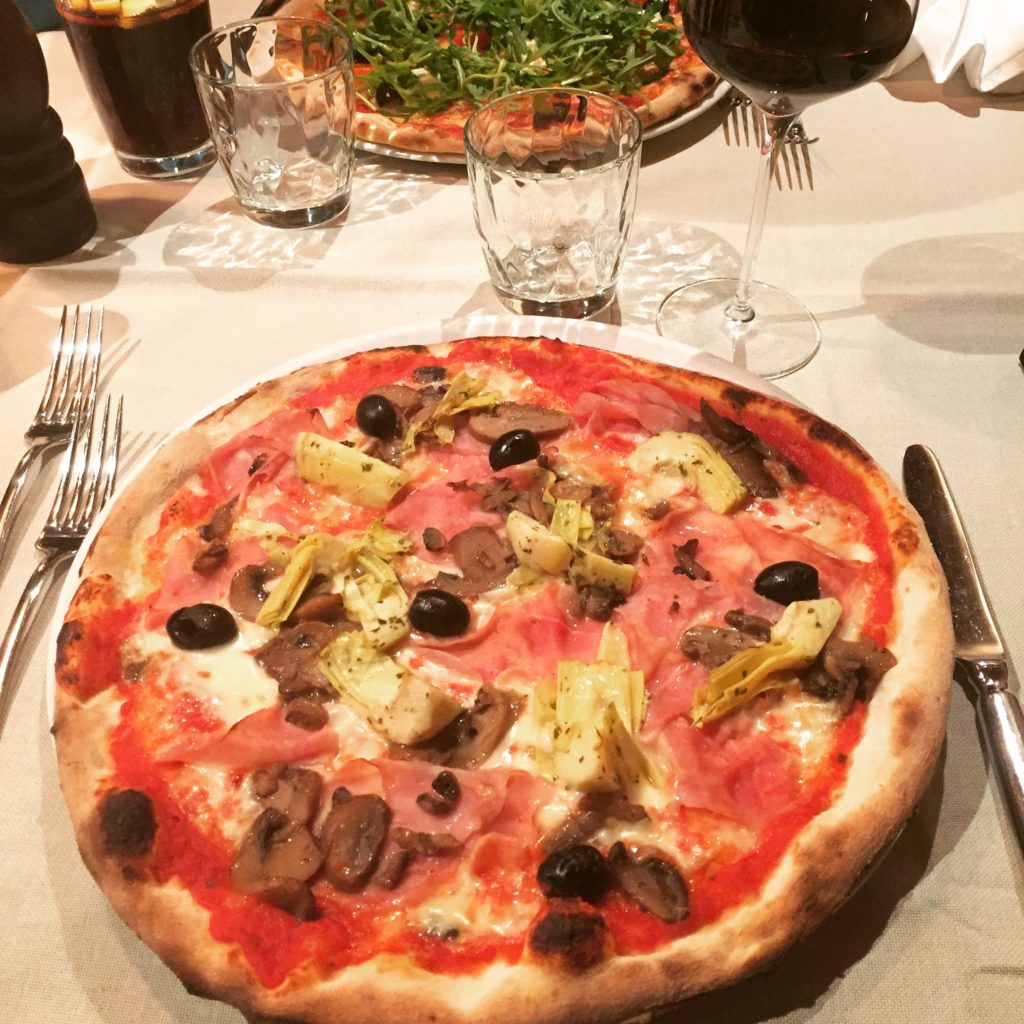 So let's start with the most important thing: Food. In this area you can't actually go someplace wrong… Except of eating at the Saderhof, we went to Kutscherhof a few times where you can sit either inside their nice vaulted cellar or outside in the sun.
At the Traubenwirt it is even friendlier and a bit more intimate, also it is a bit more chic with similar prices – perfect for a candle light dinner I'd say. If you really want to do fine dining you can go a few steps further and eat at the Finsterwirt.
---
When it comes to hiking, this one is a good address for nice hikes.
I personally am done already after an hour of hiking around here, because as a flat country-hiker I am not used to extrem ups and downs of the hills and so I am finished after only a few miles… ?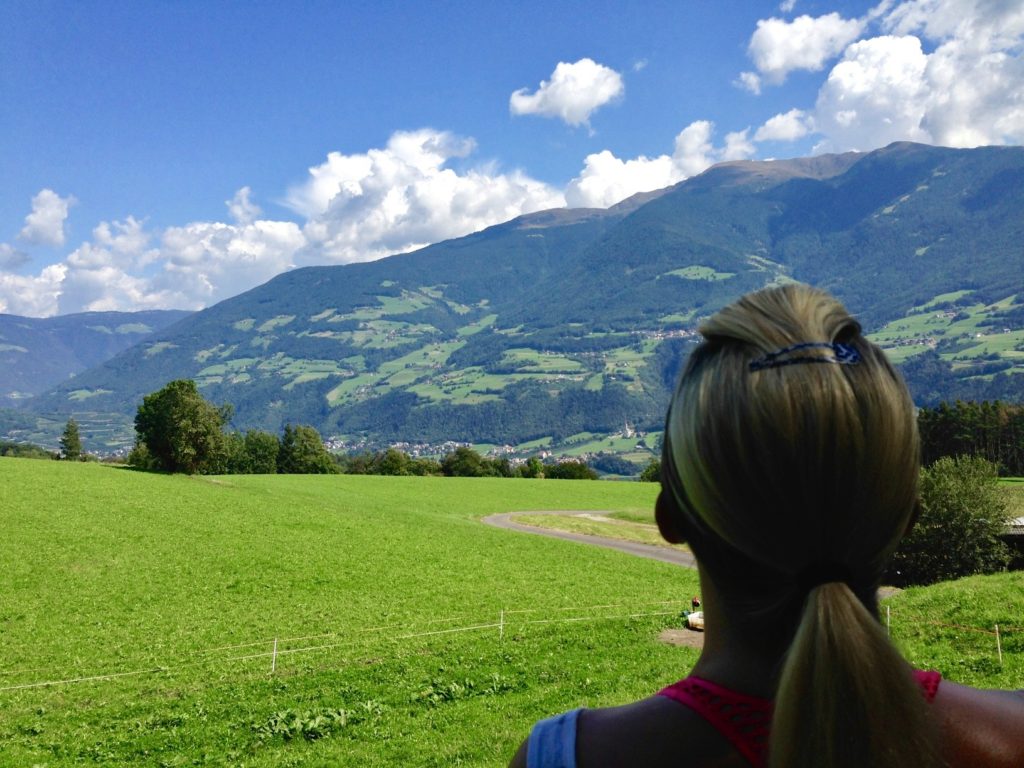 This time we even only did a 20 minute-walk with our fellow travelers – it was early evening, the sun had just set and it was immediately freezing cold and very windy – and we were happy to retire to a warm farmhouse and have another red wine.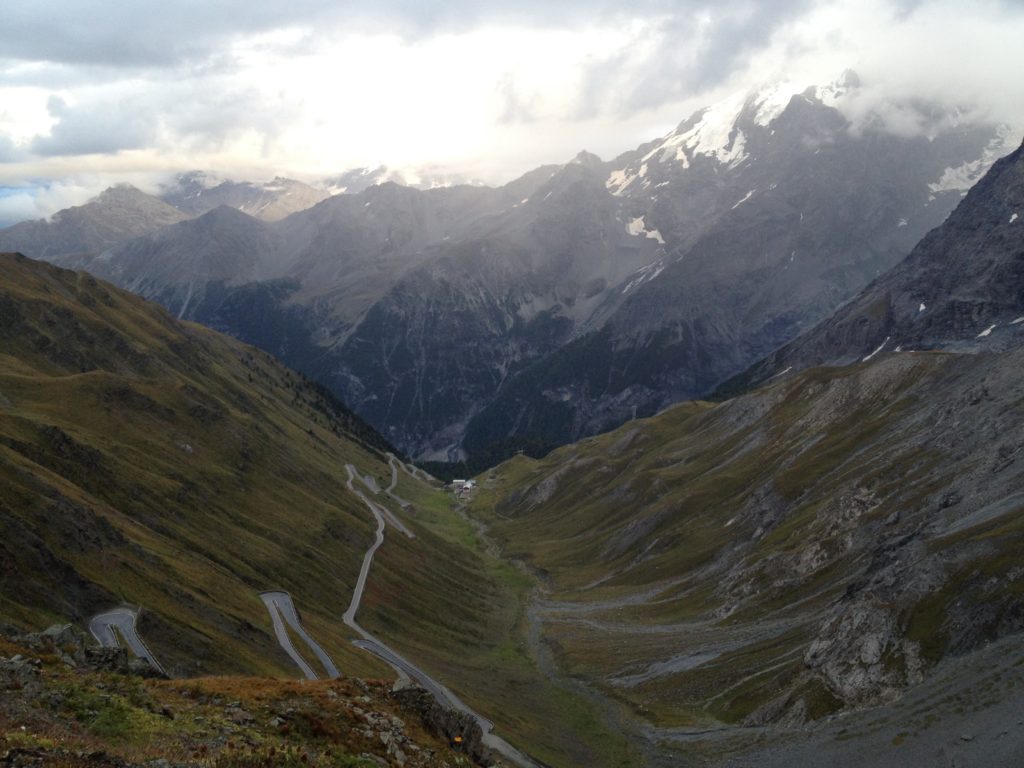 ---
Next to the breathtakingly beautiful nature and relaxing calm there is Brixen, a cute little city that is worth a walk-through.
A few miles away is a village called Neukirch with a picturesque cloister and vineyards behind it – also worth a stroll.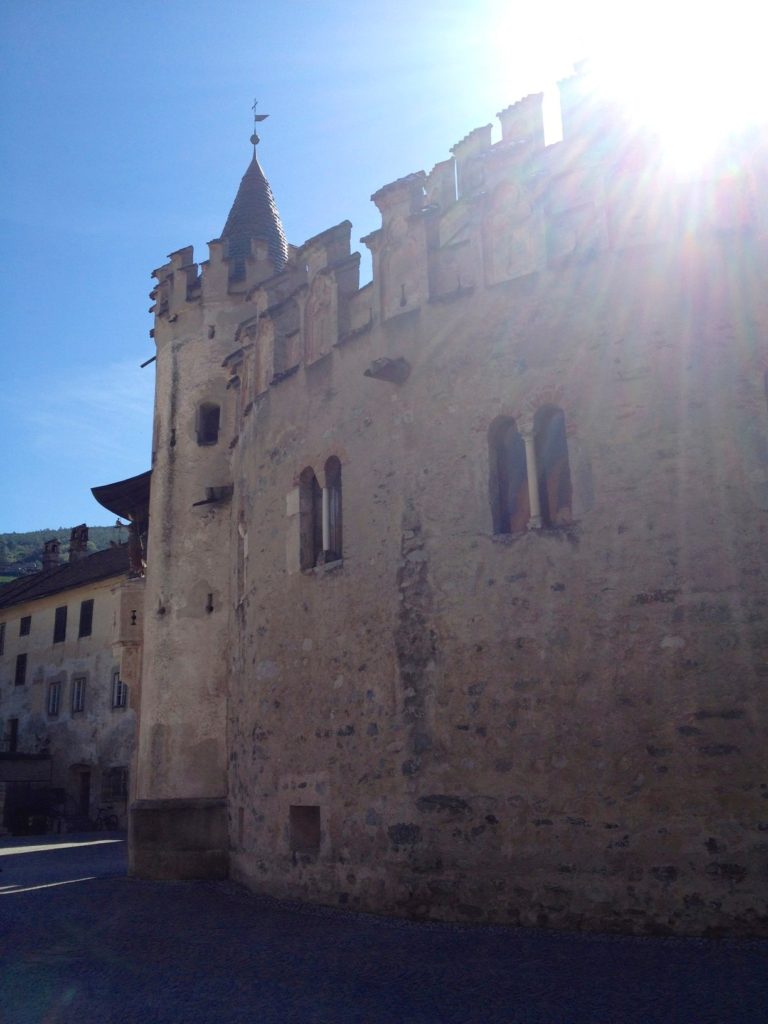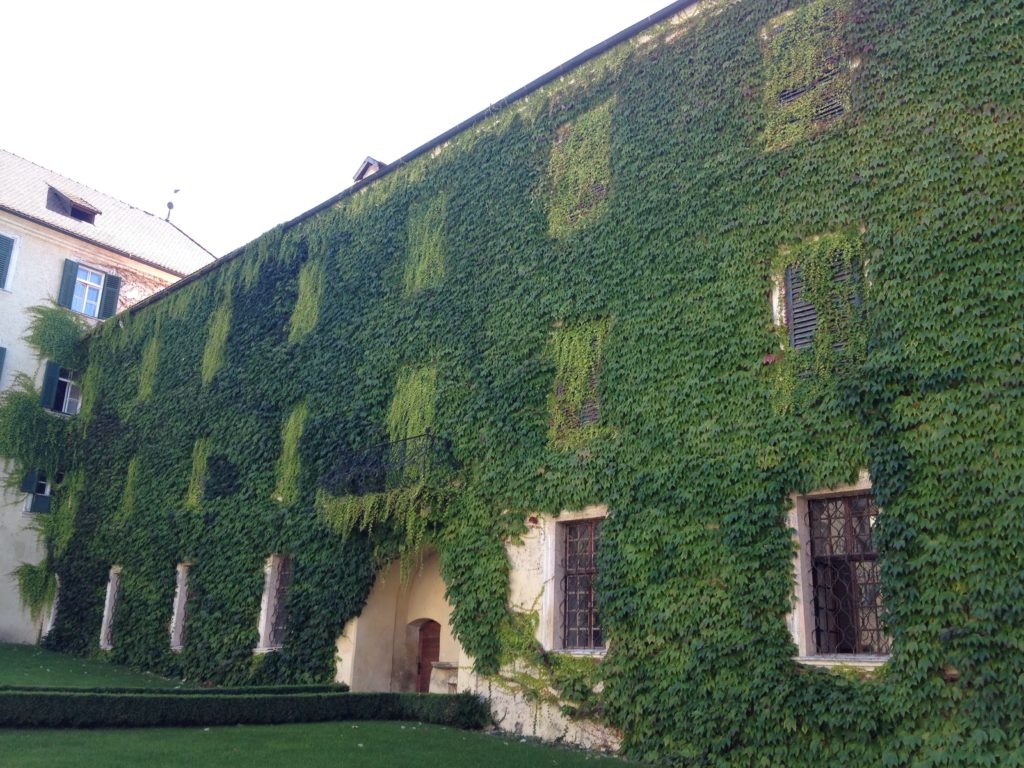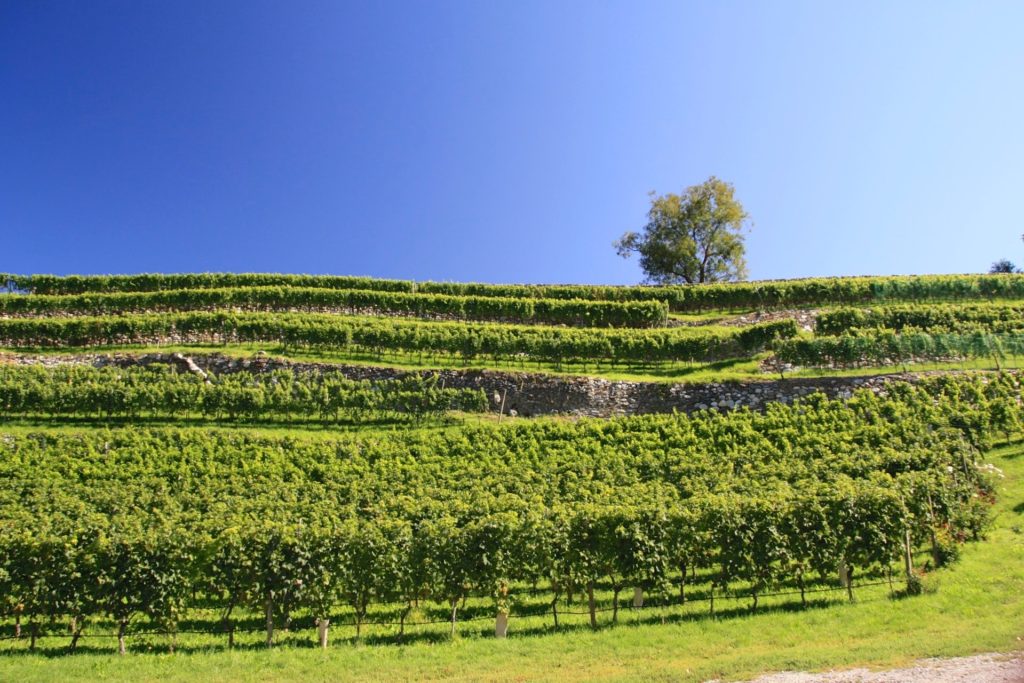 ---
And since you're already very close, you could spend a night or two at the hotel Seehof in Natz-Schabs (Naz-Sciaves). The new wellness area looks so beautiful and relaxing.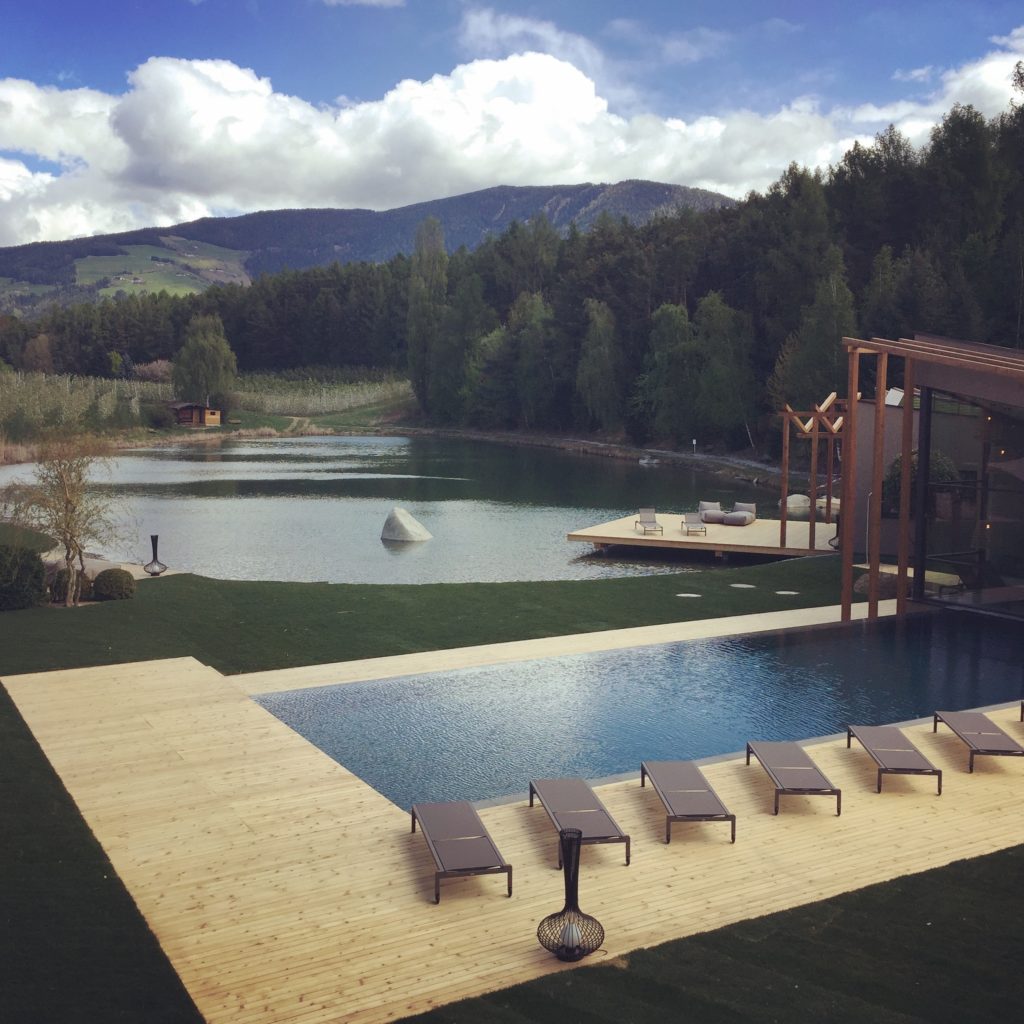 My favorite restaurant in Natz-Schabs is the restaurant "Goldener Apfel"! I've only once eaten a pizza as good as theirs (and that was in the middle of Naples, Italy). Order Schlutzkrapfen for a starter, it is southtyrols specialty. If you don't want to die after dinner you can share your plates…
---
So, after a few day of village life and isolation we can't wait to get back to the city, only a little goat makes it really hard for me to leave this time and my boyfriend even searches my bags to see if I have stolen a cute, little baby goat.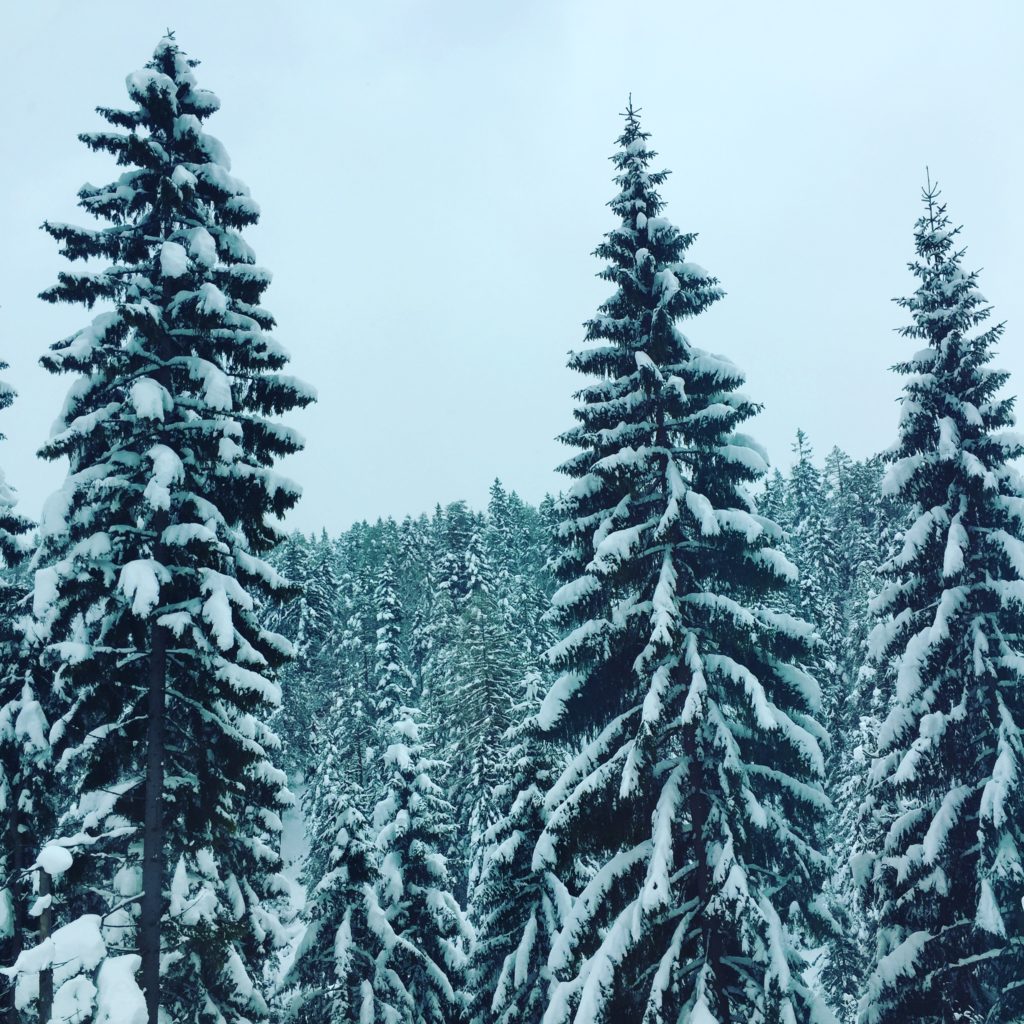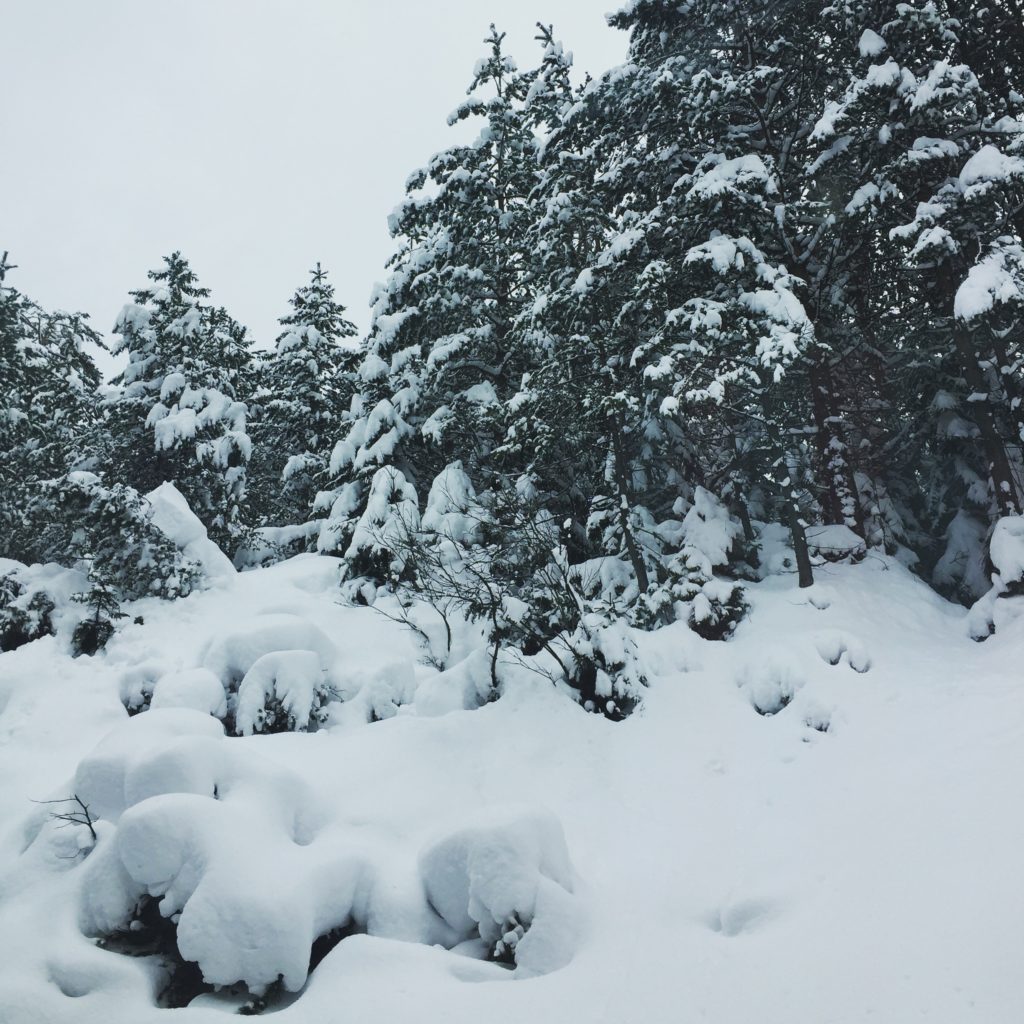 And the last thing we always do when on vacation around here is grocery shopping – actually a MUST when in Italy.
---
Which brings me to my shopping list:
For smart spenders: De Cecco noodles are delicious and cheap, as well as tomato sauce and flour!
For gourmets and also my personal insider tip: there are fantastic dry red wines in Southtyrol. I found my personal favorite wine in a Lagrein – I could always drink one! And if you don't want to spend too much on a wine: you can't do anything wrong with a Primitivo. It doesn't matter what brand or vintner it comes from, I've liked every single one so far. With those two types of wine we basically stock up whenever we come through Italy – fill up the trunk and let's go!
Parmesan cheese! You get the best one in Italy of course! We usually take 5-10 pieces home with us and put them in the freezer. If you need one you can just grate it over your spaghetti right out of the freezer… no need to even defrost it.
Olive oil and Aceto Balsamico (balsamic vinegar)…
For meat lovers: Bacon,  a few pieces of salami (we have a salami-cellar, where they can hang to dry a bit longer), Kaminwurzen and of course lots and lots of ham (prosciutto)! Italians cut their ham razor-thin. A lot better than anywhere else!
So don't forget a cool box and cooling units before you go on vacation!
---
And here's my last secret tip:
If you – like we did – pass Bad Grönenbach (in Bavaria, Germany) on your way home (basically if you drive towards Baden-Württemberg) you should stop there and have a lunch break or dinner at Charlys Topf-Gucker. My boyfriend ate their with my brother on their last vacation and secretly told me and this restaurant is now always on our to do-list whenever we pass by. The Topf-Gucker is rated with a Bib Gourmand by Michelin and it is well deserved! The filet mignon is perfectly medium and medium rare as we ordered and the Käs'Spätzle (homemade noodles with cheese) are hands down the best ones I had in my entire life!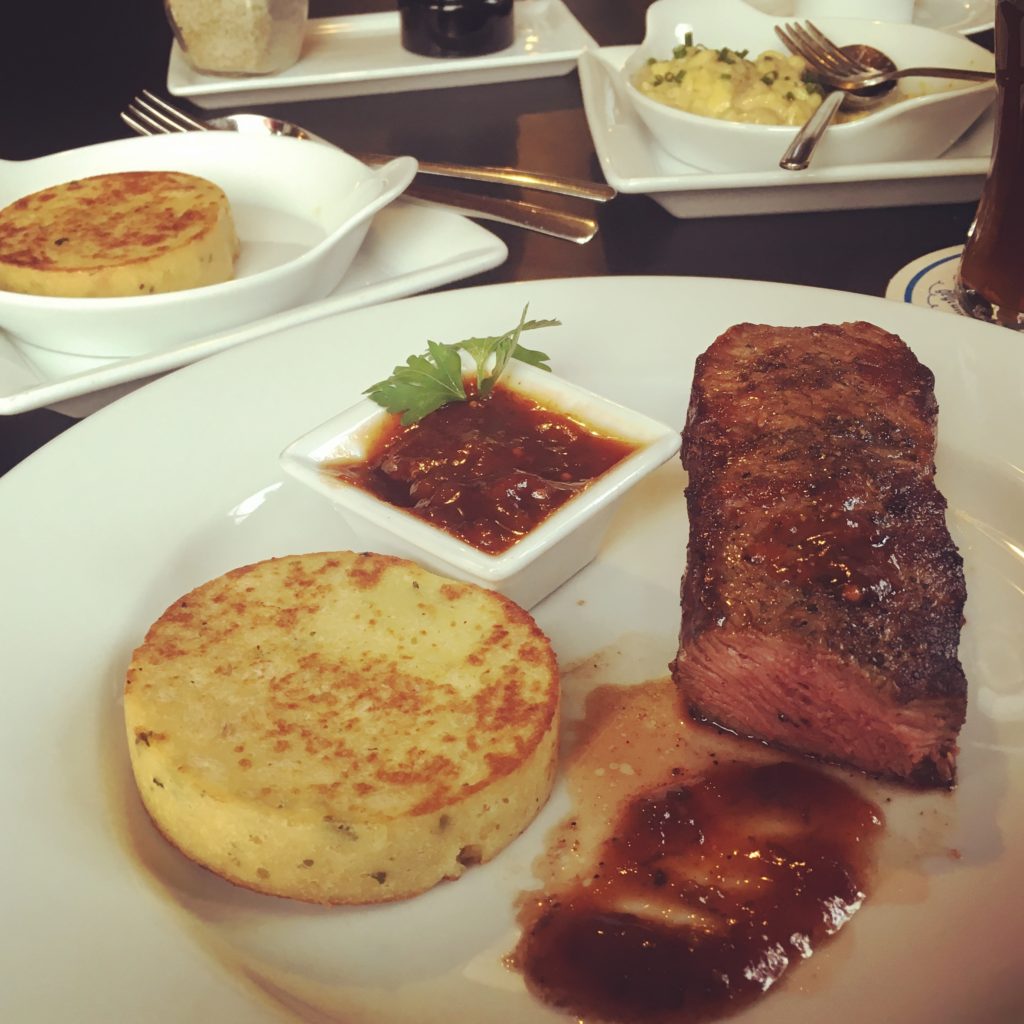 Please follow and like us: