Over the past years we did a few trips to Orlando : the first one was already 12 years ago – back then at Universal Studios, Islands of Adventure, Animal Kingdom, Epcot etc. One week we went to every park, stayed at the Swan & Dolphin Resort (awesome!) and celebrated my little sisters 18th birthday at the beautiful pool area of these hotels.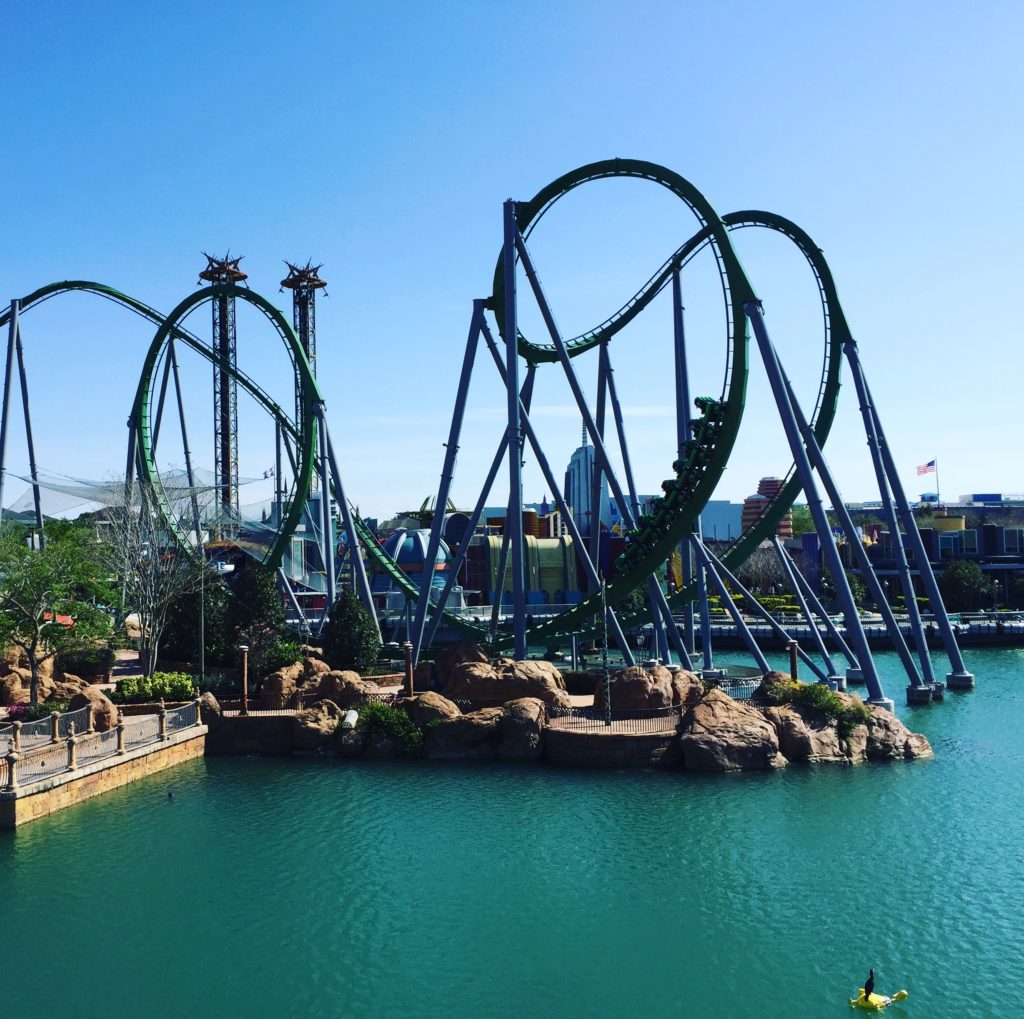 Not knowing that Florida has a few very weird laws, we even broke one: In Florida it is illegal to sing in a public place while attired in a swimsuit. Oh well… and I truly thought people would stare at me because I can't sing – but no… they all knew I was about to get caught, I guess… We were lucky and no one got arrested (that happened many years later in Miami though – because of Jaywalking… different story).
So back then we were able to try every attraction and the result of us kids / teenagers / almost-grown-ups was: we liked it best at Universal's Islands of Adventure. There's a reason this park was rated Number 1 Theme Park in the World on TripAdvisor in the past 2 years. When I lived in Florida in 2011-2013 I also went to Orlando a couple of times. If you like rollercoasters, you'll love it there. In the past weeks during our Florida trip it was set from the start my sister and I would go to Orlando and show our partners how nice it is there.
At the moment the ticket for one of the two parks (either Universal Studios or Islands of Adventure) is about 110$ – which is A LOT considering what we pay at theme parks in Germany. A so-called Park-to-Park-Ticket (you can enter Universal Studios and Universal's Islands of Adventure in one day) is 165$. Do I think it is worth it? Actually I believe it is unnecessary. There is so much to see and do in just one of these parks and the adrenaline and too loud music will have an enormous impact on you, you might be too tired to even spend the whole day at one park… If you want to do both parks maybe you should consider spending two or three days at Disney World Orlando and buy a multiple-day-ticket.
And what about the "Fast-Track" tickets (meaning: you do not have to stand in line at most attractions but can just skip them)? So far there was not one stay I would've needed one, instead I would have felt rather disappointed at spending 50$ extra because we never had to wait more than 10-30 minutes! And a few breaks in between are kind of welcome to be honest…
---
So before I'm going to reveal all the essential secrets for a day at Islands of Adventure, here's a quick hotel and food tip:
As I mentioned before we spent the nights at the Walt Disney World Dolphin Resort and at the Walt Disney World Swan Resort 12 years ago – and back then it was awesome there, beautiful hotels with amazing pool areas and also kind of expensive…
This time we (the four of us) took a room at the Clarion Inn & Suites: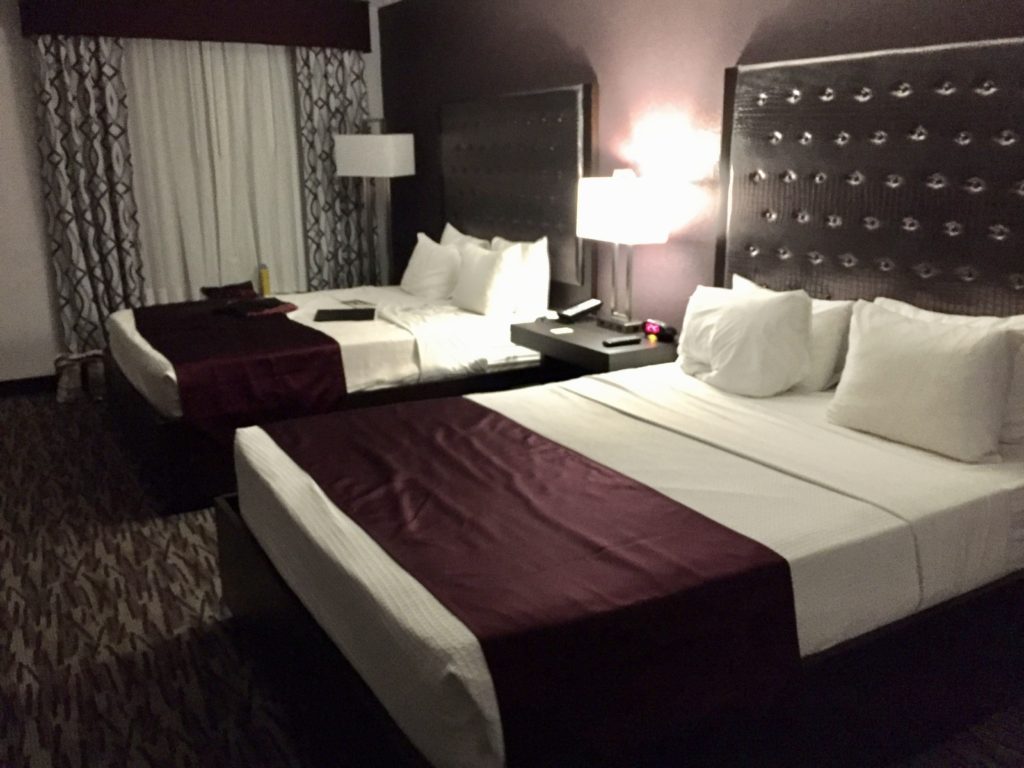 Of course we had two kingsized beds and could easily spend the night there with 4 people. The room was great, the staff friendly and the pool was rather unspectacular but at least there was a pool… Parking was available for free and the most important thing: we could walk to Islands of Adventure! It took us about 15-20 minutes and even walking there is already worth doing: plants I've never seen before, beautiful palm trees and other and cute little lizards crossing your way… Do not drive there, parking will be 40$ per day!
---
We rather spent this amount of money on dinner and drinks: at "Cheers". First we weren't too sure if we should go inside; the place looked kind of run-down and empty at first. But we were too hungry and too tired to look further so we walked in and were greeted by a charming guy named Niko, who welcomed us so very friendly, brought us many beers to see wich one we liked best and told us about their spectacular food. We warned him; we were there with a chef that works at a star-restaurant in Germany (people usually get nervous by now), but not Niko. 😀 All right then, we ordered the Patty Melt and the Loaded Burger he was especially gushing about. And I have to say: he was so right! It was delicious. It was so good we spent the next night there too – this time we arrived almost at midnight and the bar was packed! Still we found seats and got our dinner and drinks as quickly as possible. Say hi to Niko in case you meet him!
If you have booked your hotel without breakfast there's an IHOP close by. And yes, Americans and their portion sizes are crazy…
---
If you have a day left (or in case you still have enough energy after visiting the parks) go visit the Orlando International Premium Outlets. They are very close to everything I've mentioned so far. Free parking and fabulous brands with special offers like Tommy Hilfiger, Michael Kors, Gap, Ralph Lauren etc.
My favorite stores at this mall: Kate Spade (the most beautiful bags for seriously reduced prices – I had to buy 3…), Coach, Saks OFF 5th and Express. For guys (especially those of you who like outdoor and sports clothes): The North Face, Under Armour und Asics.
There are some stores you can safely ignore and walk past: Victorias Secret Outlet (everything looks cheap. Rather go to a "real" Victorias Secret store somewhere else) and Guess (this stuff looks as if it was produced for outlets only: labels placed in a slanted position on the bags and clothes with seams coming loose…not worth it).
---
Last but not least: finally here are my tips and tricks when going to one of the theme parks (especially Islands of Adventure)!
Book and print your ticket up front, this way you can already skip the first line and can directly go to the entrance.
Put on sunscreen (we even had factor 50). You will spend a lot of time outside and the sun in Florida is so intense!
As I mentioned before: do not park your car at the park. It is so expensive. Some hotels have a shuttle or if you live close by you can walk there.
Food inside the park is expensive, of course, and (compared to American standard) kind of small portioned. Whatever…let's treat ourselves with a 14$ hot dog for once… 🙂
Don't let them trick you with those "Free Lockers". They are only free for a certain amount of time… The lockers close to the Hulk Rollercoaster are free to use for 2.5 hours but afterwards very expensive (we paid 9$ because we didn't know and left our stuff inside a little longer…). You can open these lockers with the barcode on your ticket. The lockers close to the Dragons Challenge rollercoaster are free for an hour and you can open those with your fingerprint. You might want to think twice if you really need your bag or if you rather want to leave it at the hotel. You can not take your bag with you if you want to ride some of the big rollercoasters and there might be lines at the lockers…
When it comes to clothes, here's my advice: wear light clothes, flip flops or comfortable sandals would be my choice (at the Dragon Challenge rollercoaster you can sit on your flip flops) and wear a tight-fitting belt bag for the stuff you need to take with you (ID, credit card, phone…). Also: bring a waterproof zipper bag in which you can put your ticket (remember, you might need the barcode) and your phone in case you want to go on one of the water rides… It doesn't matter if you do Jurassic Park, Ripsaw Falls or wildwater rafting, you'll get soaking wet! 😀 Seriously! Not just a little bit! We had to pour out our sneakers and wring our clothes out afterwards!
One of the most important things would be earplugs. Not kidding. Although I am attending so many concerts because of my job it was still too loud for even me! I think they do this on purpose to keep you from staying the whole day. 😀 There is really not a single area at this park to rest for 10 minutes… To me earplugs are even more important than sunglasses (I left mine at the hotel because I knew I would loose them anyways…). Btw, apparently you are allowed to take your sunglasses with you on the rollercoasters – at least I've seen people wearing them… I'm not quite sure. But I didn't want to risk losing them during a wild ride.
Typical Florida: outside it is hot, inside it is freezing! We often said: "I'll go outside to warm up again". 😀 Inside the attractions and buildings of Islands of Adventure it is not as bad as it is in many restaurant and shops elsewhere, nevertheless I was glad I had a big scarf with me that I could use as a cardigan as well. And if I didn't need it I could tie it to my shorts.
Again: the water coasters will leave you drenched. They asked us at the entrance if we're "ok with getting wet" and I thought, seriously why is she making such a fuss…? 😀 Either you ride the water coasters just before you go back to the hotel or right before lunch (you can dry in the sun during lunch) or take capes and plastic bags with you to put your shoes and stuff inside. Also remember that some shoes may be damaged and leather belts can widen when they get very wet.
So with all these tips you will look like a pro AND have a fantastic stay without any worries! Enjoy the adrenaline, the sun, the feeling, your company and your earplugs! 🙂 Hope you have as much fun as we had!
Oh and I would love to hear what your favorite ride is, I would be delighted if you left a comment! 🙂
Our favorite rides are: of course the huge rollercoasters "The Incredible Hulk Coaster" (it's the green one right next to the entrance) and Dragon Challenge (the red and blue rollercoaster) at the "Wizarding World of Harry Potter" as well as "Harry Potter and the Forbidden Journey". It's absolutely great – even if you're not a fan of Harry's! My number one favorite ride is "The Amazing Adventures of Spider-Man" – an extraordinary experience in 4D!
Please follow and like us: