Another very easy recipe, this time a very "light" alternative regarding Christmas cookies.
I recommend this recipe for beginners or if you want to bake with children.
And of course: if you like the taste of coconut…
Ingredients (40 pieces):
4 egg whites
200 g sugar
300 g coconut flakes
edible paper wafers (⌀ 50mm or smaller – I usually like ⌀ 40mm)
1 pkg vanilla sugar
1 pinch salt
Preparation:
Preheat oven to 160°C (=320°F).
Meanwhile you can whisk egg whites until very stiff. Then slowly add sugar, vanilla sugar and salt.
Fold coconut flakes into the mixture.
Form little balls with two teaspoons and put it on top of the wafers.
Bake for 15-20 minutes. And…done already! I hope you like them!
Merry Christmas to all of you!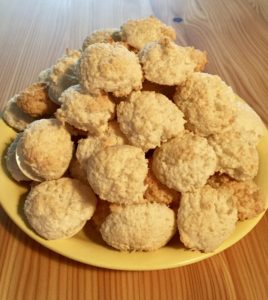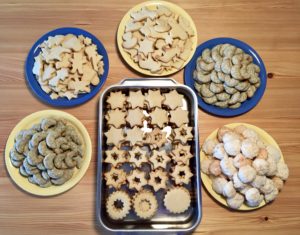 Please follow and like us: