These Christmas cookies are made with only 4 ingredients!
Yeah, you heard right! Well… 4 ingredients without the icing. But even without it they are so yummie!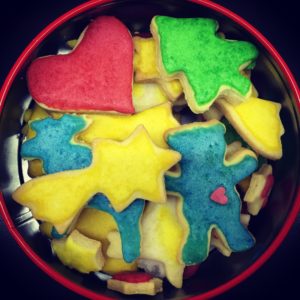 They can be made super fast and really easy.
So this recipe is not only perfect if you want to bake with kids, but also if you are very busy now before Christmas and don't have much time left!
Ingredients (90-100 cookies):
500 g flour
250 g soft butter
250 g sugar
2 eggs
(and if you want: grate the zest of the lemon we will squeeze later)
If you want icing:
1 organic lemon (or a few tablespoons lemon juice)
400 g powdered sugar (btw you can make powdered sugar with sugar in a blender, if you happen to not have any at home!)
maybe some decor or food coloring
or 3-4 eggyolk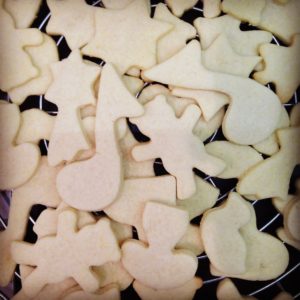 Preparation:
Knead all 4 ingredients (or 5, in case you use lemon zest) until you have a smooth dough.
Put it in the fridge for about an hour.
Preheat your oven to 180°C (=350°F).
Cut the dough in 3 pieces, roll out each part, cut the cookies and put it into the oven for 10-15 minutes.
Now we are actually done already!
Just keep an eye on the first tray of cookies, take them out when they slowly turn golden. It took my last oven 10 minutes until they were done, my new one needs 15 minutes. I like them best when they're still very light.
If you decide to do an icing, you can now squeeze the lemon and stir it inside the sieved powdered sugar (start with 1-2 tbsps and slowly add more while stirring. The icing shouldn't be too liquid). Wait for the cookies to cool, then you can apply the icing either with a brush or with a spoon.
A second "topping" could be made just with egg yolk, but you need to apply the egg yolk with a brush before you bake the cookies. Need a recipe for the remaining egg whites? Try coconut macaroons.
But, as I said, these Christmas cookies taste really good even without icing. So no need for the extra work, if you're stressed out and in a hurry.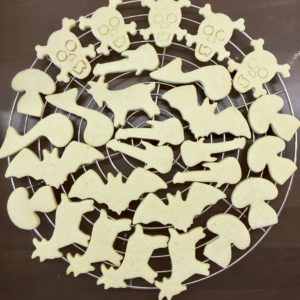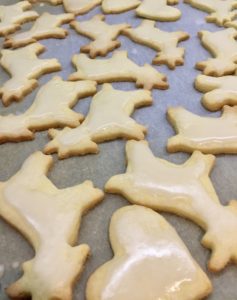 Please follow and like us: